Annual review in Mittelerde stable
2021 is about to end.
We say goodbye to a year in which, as in the previous year, we were all extremely guided and restricted by the epidemic situation. Nevertheless, there were many highs and beautiful moments that we look back on with satisfaction and gratitude.
All of our seven foals developed very well. At the foal championships at Gut Birkenhof in Bonefeld, the jury of the Oldenburg Horse Breeding Association rewarded us with first, second and third place. A sign that we are on the right track with our breeding ideas and our vision.
Here is an overview for the coming year: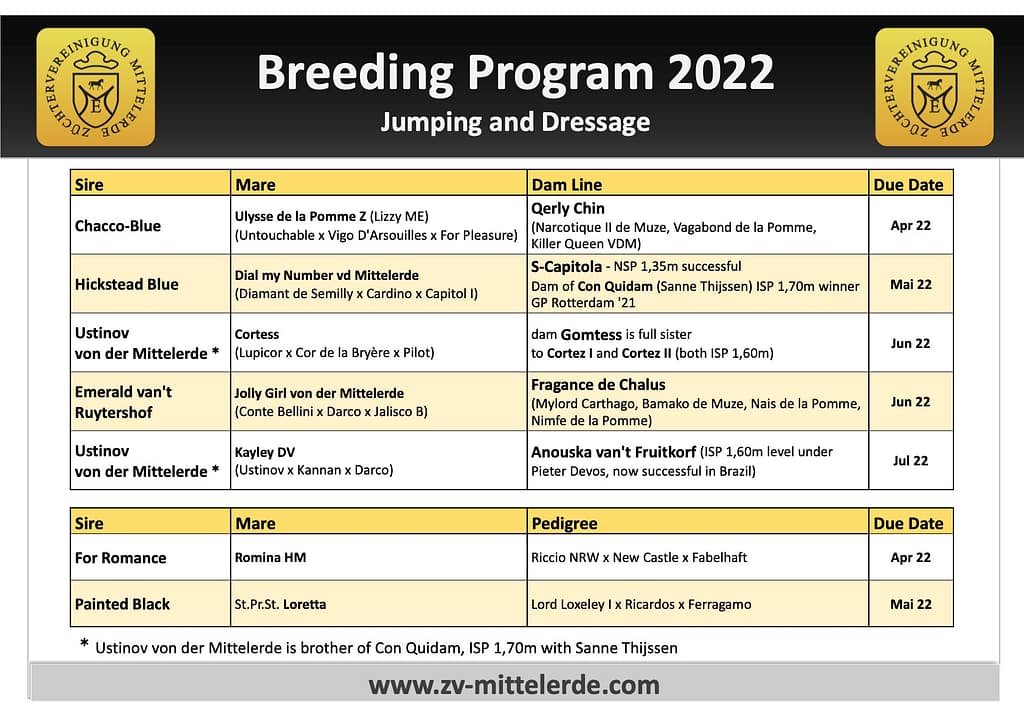 We were also pleased this year that the name Mittelerde was clearly more present, even far beyond our region. The FN well noticed seven Mittelerde horses at various tournaments across Germany.
Cayman 36 (*2009)
Fatima ME (*2013)
Tornado ME (*2015)
Ustinov von der Mittelerde (*2016)
Big Moon Rising vd Mittelerde (*2016)
Bonany von der Mittelerde (*2017)
Conbrio von der Mittlerde (*2017)
And there are seven more young horses from Mittelerde that are already in the starting blocks for the 2022 tournament season. We will report.
Our commitment to breeding high quality sport horses was recognized with increasing interest by many horse lovers and prospective buyers and so it is only natural that Mittelerde offspring also changed hands. Beside sales of foals and young horses, we are particularly pleased that the four-year-old Conbrio von der Mittelerde has found his new home on the farm of Jan Schulze Niehues in Warendorf-Freckenhorst. Jan, one of the most talented young riders in German show jumping, has already coordinated well with his new partner. Let's wait and see what happens next - Jan definitely has big goals with Conbrio von der Mittelerde.
With these positive impressions we say goodbye to 2021. We wish all of our customers, business partners, sports and breeding enthusiasts, as well as all friends and horse lovers, a Merry Christmas and a relaxed New Year. Good luck for the breeding year 2022 and above all the best of health for humans and animals.
Yours
Team Mittelerde