Fürstenball x Wolkenstein II x A Jungle Prince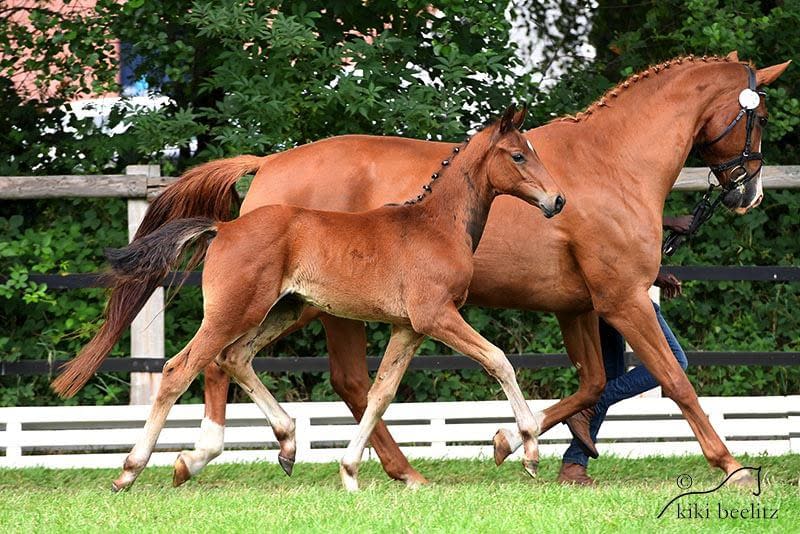 Description: a bundle of energy with tactful movements and excellent knee action.
Pedigree: 1st Dam, State Premium Mare Warina, comes from the famous performance line of the Aslaug from 1890. He has produced numerous licensed stallions, including Salvador Dali, Worldchampion, Lemon Tree and Wandervogel I and II.
This line also convinces in sports. Athletes like Rapper's Delight v. Roletto, Sil Jander v. Sunlight xx, Allez Petit v. Augustine xx (4th father of Fit for Fun / Luciana Diniz), Blue Hors Future Cup by Florestan, Rousseau v. Rose dew, Sterntaler v. Sir Donnerhall, Tornado v. Trapper, Gaia Girl v. Cavalier, Arizona Fly v. Acord and KN Malna v. Lastro are just a few names that distinguish this strain in dressage, versatility and jumping up to S ***.
All in all, the offspring of this dam line stand for accumalitive earnings of almost one million euros.
Sire Fürstenball is a phenomenon in both, breeding and sport. He was licensing champion, HLP winner, state and federal champion. Fürstenball presented the winning stallion and the top price of the Oldenburg stallion days from 2012 in his first licensing year: By 2017 he had a total of 43 licensed Fürstenball sons, which were often awarded prizes and sold at record prices. In 2014, three out of four Oldenburg state champions came from Fürstenball. There are also numerous award-winning mares on Fürstenball's account, which prove their outstanding qualities not only in the Oldenburg State Riding Horse Championships, but also in the brilliant rings of the Oldenburg Elite Mare Show.
Fürstenball himself is pure fascination. With outstanding lightness, permeability and elasticity, he embodies the dressage horse of the modern age and passes these qualities on to his offspring with great reliability. He was first a top foal, then licensing and HLP winner with a sensational 154.98 points in the dressage index (16 times 9.0 and better and 10.0 for rideability). At the age of five he became Oldenburg State Champion and Federal Champion of Dressage Horses.
Every year he delivered winning and top ten foals at the German Foal Championships. Fürstenball's success is no coincidence: Father Fürst Heinrich himself was world champion in dressage horses and delivered 53 stallion sons and 64 S dressage horses in a short period of time.
Florestan I
Fürst Heinrich
Dawina
Fürstenball
Donnerhall
St.Pr./E-St. Maradonna
St.Pr./E-St. Marella
Weltmeyer
Wolkenstein II
St.Pr.St. Wolke
State Premium Mare Warina,
A Jungle Prince
St.Pr.St. Argentina
St.Pr.St. Woman