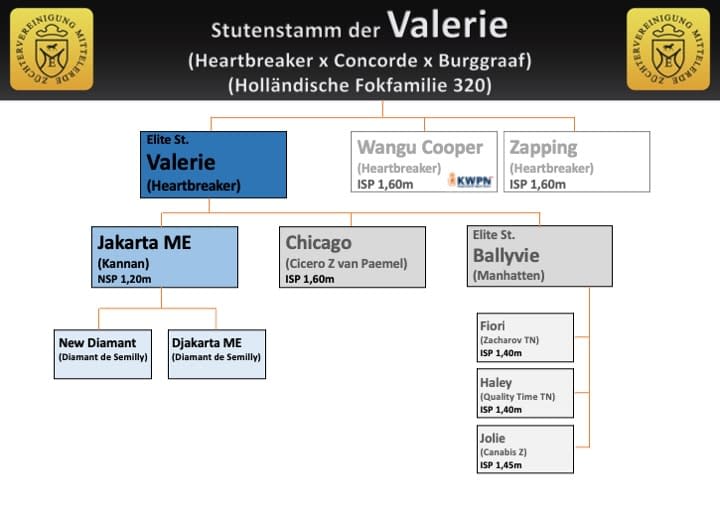 Valerie goes back to her third mother, the Carettie by Tolad x Millers Gray XX, a renowned line with a particularly high quality thoroughbred influence. The pairings that followed her with the top stallions of the time such as Cavalier, Burggraaf, Voltaire and Concorde resulted in all sporty, talented offspring who were just as successfully passed on.
Elite mare Kristie von Burggraaf directly brought 3 full siblings of the elite stallion Heartbreaker through Priscilla von Concorde. Two of them, Wangu Cooper (licensed) and Zapping, have successfully demonstrated their top sporting class up to a level of 1.60m. The third, Valerie, was used for breeding due to her outstanding KWPN mare performance test as well as her interior and her movement qualities and there she represented this successful dam line in the best possible way and expanded it with confidence.
Mit Ballyvie hat Valerie eine Tochter, die ihrerseits mehrere Nachkommen im Springsport vorweisen kann. Chicago, Valeries erster Sohn von Cicero Z van Paemel, ist heute erfolgreich in 1,60m Prüfungen in Kanada unterwegs. Tochter Jakarta ME von Kannan führt diese erfolgreiche Genetik weiter. Selbst heute im Sport, hat sie aus dem Jahr 2018 bereits zwei Nachkommen von Diamant de Semilly, die beide vielversprechende Talente zeigen. Djakarta ME, die erste der beiden Nachkommen, wird im Stall Mittelerde ab 2022 ihre sportliche Laufbahn starten.
The Fok family 320 around Valerie - soon we will hear and see a lot more about them.
Unsere Pferde aus diesem Stamm:
Jakarta ME – verkauft
Djakarta ME – aktuell im Zuchteinsatz