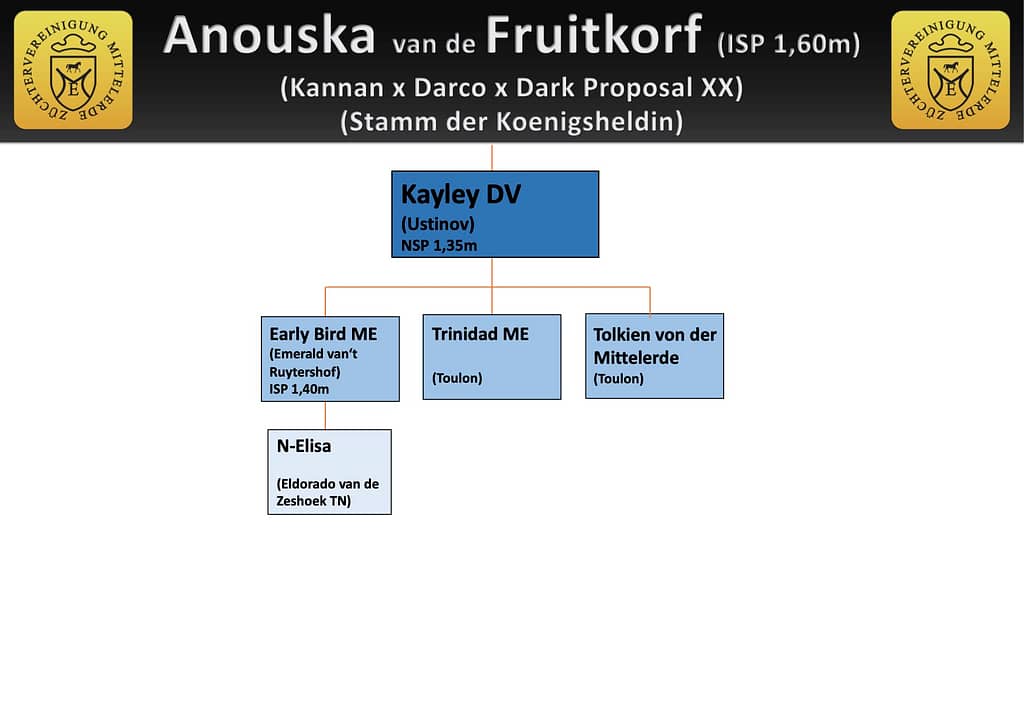 The dam line of Anouska van de Fruitkorf is small, but it shows once again how important the foresight is in breeding (they say "thinking in generations") and how long it still takes until such a breeding quality product develops from it that the class possesses to move up to international level.
It was the Hanoverian line of the Königsheldin (Schridde 957), which was bred and grafted with thoroughbred stallions in two generations in a row in the early to mid-eighties. First it was the half-blood mare Sharon by Shogun XX out of the Hanoverian warmblood mare Glanzart, which later was sold to Belgium. There, paired with thoroughbred Dark Proposal XX, she achieved her sporting breakthrough for this dam line. The highly blooded Miss Magic (out of Sharon) was inseminated with world class stallion Darco. The result - Twice as Nice van de Fruitkorf.
And this is exactly where you can see in retrospect the ingenious foresight of the "van de Fruitkorf" breeding stable. With the genetic dream combination of Kannan with Darco and the blood of previous generations, Anouska van de Fruitkorf was born from Twice as Nice van de Fruitkorf in 2000.
It was Anouska who made her way up to the highest jumping class, first in Europe and later in Brazil. Anouska is a fighter with a lot of energy, willingness to perform, ingenious hindquarters technique on the jump and above average ability and thus the genetic key figure for this special dam line.
Our Mittelerde stable carries on the genes of this important dam line with Anouska's daughter Kayley DV Kayley was successful up to 1.35m under Kai Schaffner before she also attracted attention in breeding with Early Bird ME (by Emerald), Trinidad ME and Tolkienvon der Mttelerde (both by Toulon).
These three offspring alone will be heard a lot in the years to come.
Our horses from this Dam Line
Kayley DV - broodmare (for 2022 pregnant by Ustinov von der Mittelerde)
Early Bird ME - sold
Trinidad ME - in sport
Tolkien von der Mittelerde - currently in rearing