Helmut Ewenz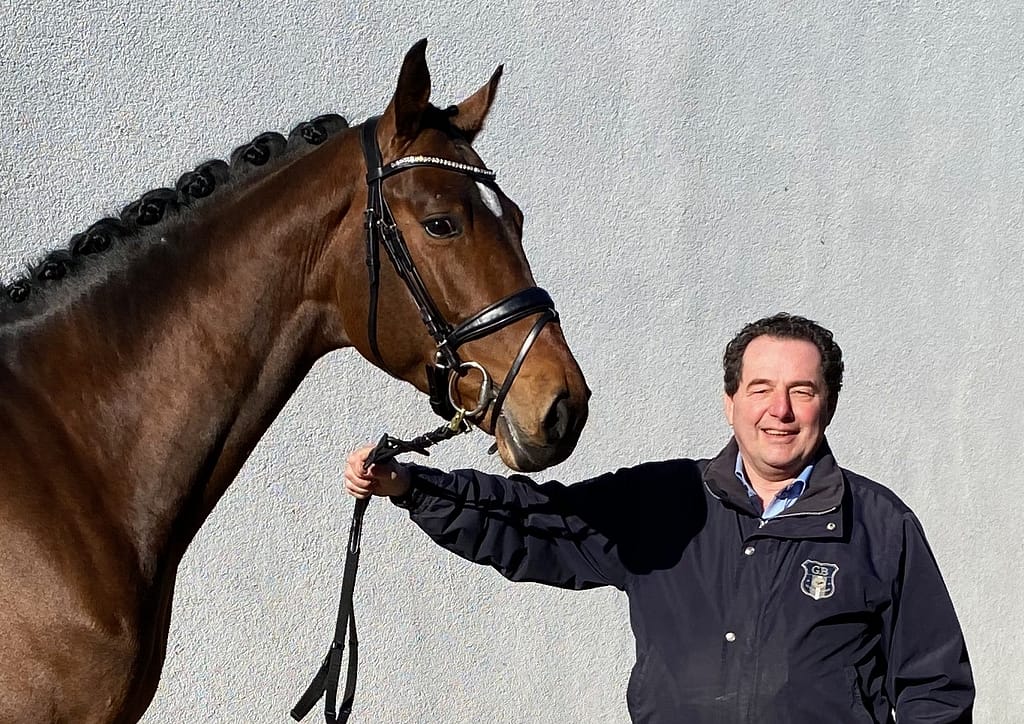 Helmut Ewenz, born in 1960 in Weißenthurm, took over the Gut Birkenhof Equestrian Center in Bonefeld in 1978 and runs it together with wife Ursula and daughter Denise.
Helmut Ewenz has an eye for horses! He has already proven this several times! So e.g. with the purchase of pony stallion High Noon, who became the federal champion of five and six year old jumping ponies in Warendorf, under Helmut's supervision. And also with C-Back to Germany, a KWPN stallion by Eurocommerce Berlin (Caspar x Libero H x Excursus XX), which he successfully presented at the stallion licensing of the Zweibrücker Verband.
And when Helmut then had the opportunity to bring S-Capitola (by Cardino x Capitol I) into his stable as a broodmare, the decision was made - he wanted to breed successful sport horses himself - with Capitola. And he succeeded straight away. Because his first self-bred foal - Ustinov ME, a colt by Uriko, born in 2015 - was approved at the age of three under the eyes of more than 5000 breeders and followers of horse breeding in November 2019 in Vechta at the Oldenburg Horse Breeding Association with thunderous applause.
Helmut ist aber auch aktiv in der Dressurpferde Zucht. Mit Stute Romina HM, St.Pr.St. Raffinesse sowie St.Pr.St. Loretta hat bereits großartige Dressurfohlen zur Welt gebracht die fast ausnahmslos prämiert wurden und sich inzwischen auf den großen Sport vorbereiten.
Darüber hinaus hat Helmut immer einen offenen Blick für überragende Mutterlinien. Aus diesem Grund war der Kauf von Olivia ME, und damit eine Investition in den berühmten Rudilore Stamm, für ihn keine Frage. "Einen solchen Stutenstamm zu besitzen ist schon etwas Aussergewöhnliches" so Helmut Ewenz nach seiner Kaufentscheidung. Und: Recht hat er, denn Olivias Großmutter ist u.a. Schwester zu den Vererberlegenden Rubin Royal OLD, Blue Hors Romanov oder Blue Hors Rockefeller.
Here is the entire breeding collection from Helmut that will be available in the coming years:
Gebhard Jansen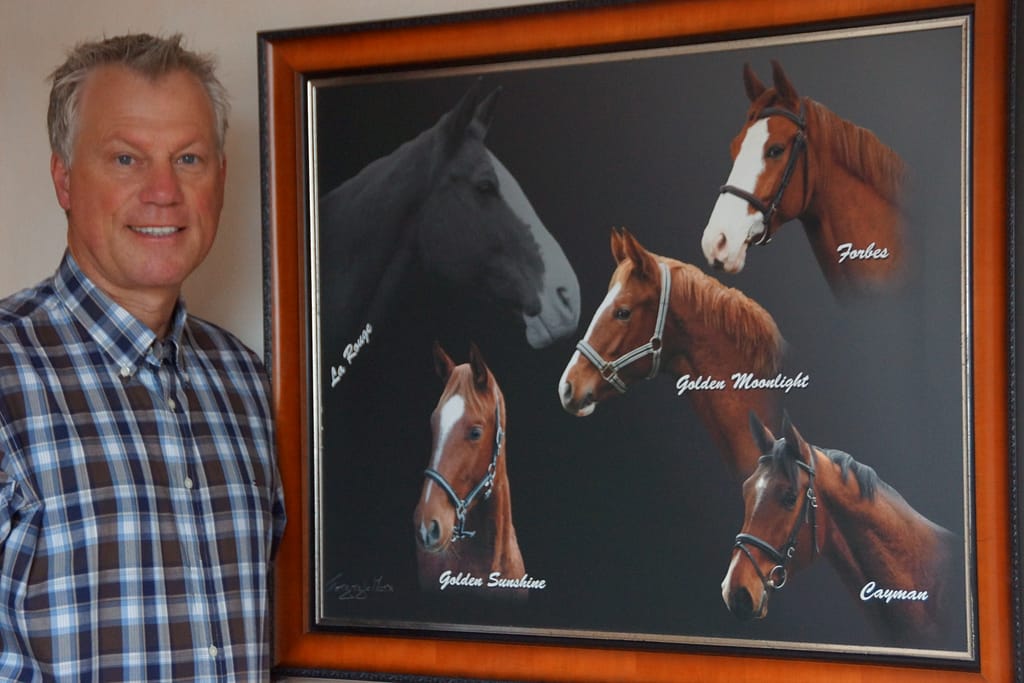 Gebhard Jansen, born 1960, was introduced to breeding through his family and has since then delved into the vision of breeding top sport horses himself.
It all started with La Rouge, a Hanoverian jumping mare by Lanthan x Arsenik, which was successful with daughter Linda to M **. According to his vision, he only used successful stallions which had achieved top sporting results. So he bred four offspring with La Rouge; a gelding by For Pleasure and Chacco-Blue and two mares by Goldfever.
The two geldings have had successful careers in show jumping and are currently still in regional S* jumping competitions.
Amongst the mares it was Golden Sunshine, which in 2016 was awarded as OS H.Pr.St. (Oldenburg main premium mare). She gave one foal (a colt) by Comme il Faut in 2017 before changing owners.
No. 2, Golden Moonlight, already gave birth to 2 top foals by Olympic champion Big Star. Both filly were awarded by the Oldenburger Verband and selected for the Elite auction, whereby Big Moon Rising ME, the first of the two foals, already has two offspring (Valerie ME and Good Boy ME), both of which participated in the Elite event, which resulted in Big Moon Rising being named immediately premium mare (Appointment to the Association of Premium Mare) (Verb.Pr.St.).
However, since the breeders' association has a very special focus on the best mother lines, the further step was only logical - in 2017 Lizzy ME was added. Lizzy, birth name Ulysse de la Pomme. von Züchter Geert Baertsoen aus Frankreich, kommt aus einem der besten und erfolgreichsten Stutenstämme der Welt. 2020 bekamen wir aus ihr bereits ein Fohlen von dem zur Zeit erfolgreichsten Springsportler Tobago Z, der unter Daniel Deusser in den letzten beiden Jahren über 1 Mio € Gewinnsumme ersprungen hat. In 2021 kamen 3 Fohlen dazu – von Kannan, George Z und Ustinov von der Mittelerde – ET macht's möglich.
Here is Gebhard's breeding collection:
Die Züchtervereinigung oder der Stall Mittelerde !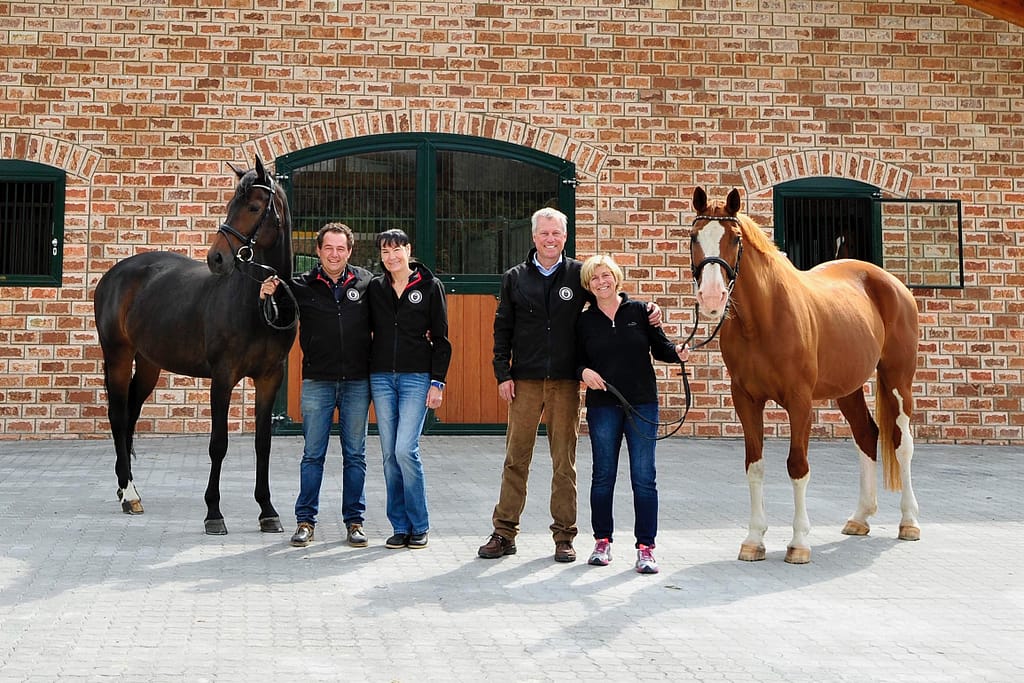 We started the breeders' association with the construction of our Middle Earth stable in 2014. Breeding alone is boring, we said, and so Helmut and Gebhard, together with their families, started building stables and also thinking about different breeding ideas.
It started with Fatima ME. We discovered them as foals on one of our extensive breeding tours and selected them for ourselves. With Fatima ME from the Holsteiner line 741 we have acquired one of the best mare lines in Holstein. Fatima was five years old at the World Championships for young show jumpers in Lanaken. Parallel to their training, we raised three foals via embryo transfer. Two colts by Olympic champion Big Star and one filly by Mylord Carthago.
But our common activities really started with Capitola - the mother of Helmut's first self-bred and licensed stallion Ustinov ME (see above), which comes from a mare line that is among the top 100 lines worldwide. We didn't want to give up so quickly and so after two great years we decided to invest in this mare together and help nature a little - with embryo transfer and ICSI. It was very time-consuming, but our success proved that we had chosen the right path.
Overall, we did two "normal" embryo transfers with Capitola and in 2018 bred the stallion Verdino ME (by Verdi N.O.P.) and the mare Dial My Number ME (by Diamant de Semilly). We were also extremely successful with ICSI (IntraCytoplasmic SpermInjection). In 2018, Kashmina ME (by Kashmir van't Schuttershof), three Heartbreakers, two stallions (Have a Break ME and Heathrow ME Z) and one mare (Heather ME) were born using this special method of insemination.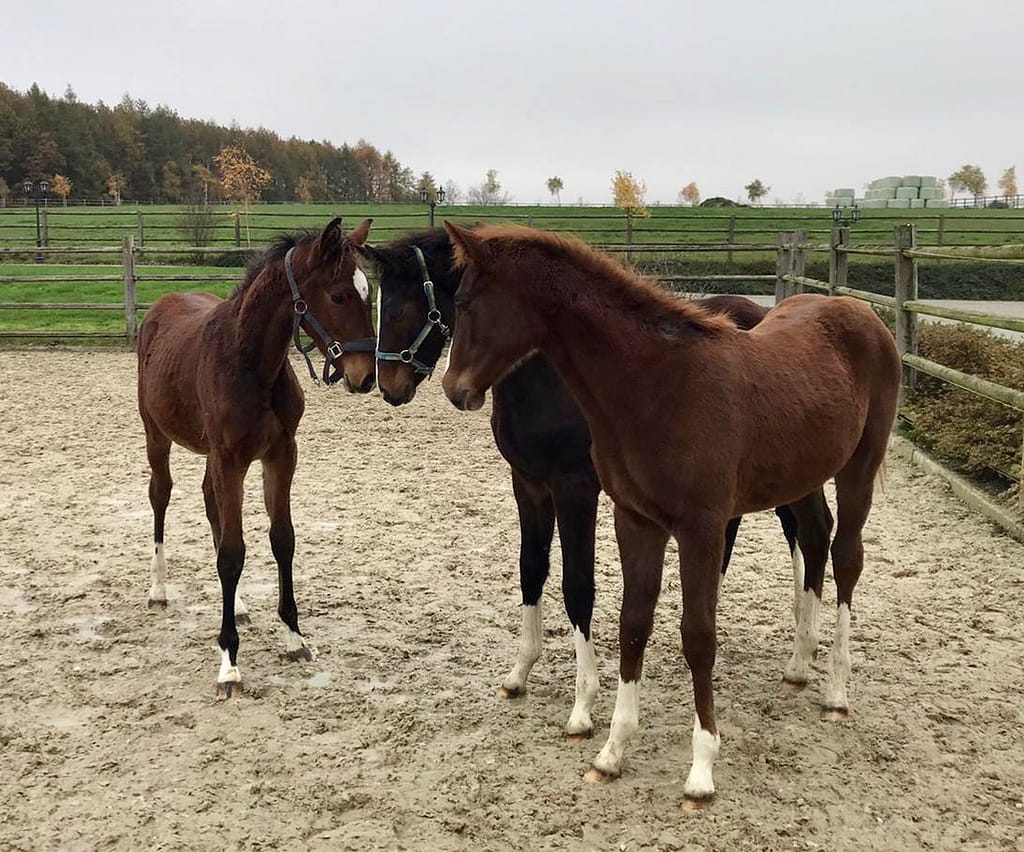 Capitola is back with its owners today. We hope that many foals from this special breed will be born.
But that's not all. 2019 was the year of the big decisions and so we invested together in two further mother lines, which are at the top of the ranking of the world's best jumping blood sires. Firstly, Jolly Girl from Middle-Earth, a filly from the Fragance de Chalus line. Countless sport horses come from this tribe and have made careers up to the Olympic Games and World Championships. These included the top stallions Bamako de Muze and Mylord Carthago. Also Jingle Star from Middle-earth. Jingle Stars grandmother is the sister of Table van Sombeke, the mother of Olympic champion Glock's London (birth name Carembar de Muze). With these two new additions to Middle Earth, we hope to significantly improve the quality of our offspring and thus to be able to offer German equestrian sport top sport horses in the medium term.
The Breeders Association accommodated all of the horses in the Middle Earth breeding stable at Gut Birkenhof run by Helmut Ewenz. "Best Accommodation" can be taken literally - in summer 2015, the stable was awarded the title "Best Stable in Germany" by a jury of the FN (German Equestrian Federation in Warendorf) in a nationwide competition.
Here is the current and future breeding collection: