Riccio NRW x New Castle x Fabelhaft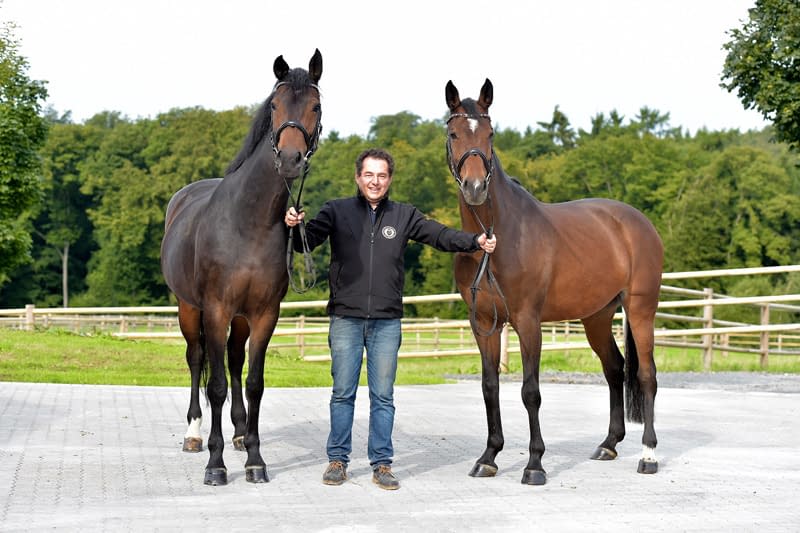 Pedigree: 1st Dam, Natascha's sire Newcastle comes from a highly successful and hereditary dam line, out of which, in addition to sire Nouveau Roi xx, his full brother Noble Roi xx and another licensed stallion come from. All in all, more than 80 offspring from Newcastle are registered as show horses within the German FN, some are successful up to the highest level in dressage. There are 30 registered broodmares, many with a state premium award.

Sire Riccio, born in 2001, was premium stallion at the NRW main licensing in Münster-Handorf in 2003. He completed his 30-day assessment test with ratings of 9.0 and above for the characteristics of temperament, motivation and constitution. The Riccione son was Vice Bundeschampion of the three-year-old riding horse stallions in 2004, then competing in the 2006 World Championships for five-year-old dressage horses in Verden. Because of his success, Riccio has the name suffix "NRW" in tournament sport. Riccio, im Turniersport den Namenszusatz "NRW".
Riccio brought 19 state premium mares and five licensed sons. He produced numerous award-winning foals. His descendants also enrich auction and venues and the field of participants in the German Foal Championships. 318 offspring are registered as show horses and are highly successful up to the highest class. Riccio's breeding value dressage is 133, making him one of the top 5% sires in Germany according to the FN.
Romina gave birth to a Bon Coeur filly on April 11th, 2017. Bonany ME was immediately awarded the foal premium at the foal registration of the Oldenburg Association on June 1st in Bonefeld.
Descendants of Romina:
1.) Forever ME (Filly by Finest), *18.06.2015
2.) Bonany ME (SF v. Bon Coeur), *26.05.2017 – OL Fohlenprämie
3.) Bonamé von der Mittelerde (SF v. Bon Coeur), *21.04.2020
für 2021 erwarten wir ein Fohlen, diesmal von For Romance I – (Termin 04/2021)
Regazzoni
Riccione
Arosa
Riccio NRW
Florestan I
Fidelia SS
Desi AS
Nouveau Roi XX
New Castle (Newcastle)
Fair Lady
Natascha
Fabelhaft
Fabiola
Marina