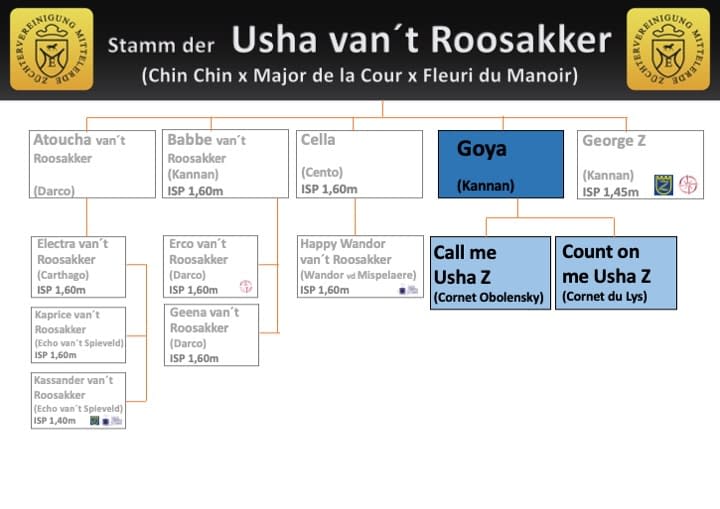 As mentioned at the beginning, a top mare line with consistently proven top quality and her inheritance security is of particular importance.
With the Usha van't Roosakker- Line we were able to bring exactly such a mother line into the stable. Many international sport horses and licensed stallions have emerged from him. And even Usha's breeder, Marc Kluskens from Belgium, started his breeding very wisely with the mare Rosanne van de Withoeve (Major de la Cour x Fleuri du Manoir a.d. Hawaii van den Padenborre), from which he finally bred Usha.
Usha van't Roosakker (by Chin Chin) went up to 1.50m under Marlon Modolo Zanotelli. In the subsequent breeding career she had nine daughters, the first five of which have already produced offspring themselves who have made it to the great international level (1.50m and higher). We can also expect identical inheritance security from the younger four daughters, as well as from Goya (Kannan x Chin Chin x Major de la Cour), from whom we raised our filly Call me Usha by Cornet Obolensky. sowie 2021 ebenfalls ein Stutfohlen, Count on me Usha von Cornet du Lys, gezogen haben.
Wie bereits angedeutet, weist die Stutenlinie von Usha van't Roosakker auf ganz außergewöhnliche Eigenschaften hin. Wie in einem Puzzle wurde sie über Generationen mit den richtigen Hengsten bis zu dieser vollkommenen Spitzenqualität entwickelt. Sie kann mittlerweile auf über 50 Nachkommen blicken, die auf internationalem Parkett erfolgreich sind (einen kleinen Auszug sieht man auf dem Schaubild oben).
Usha van't Roosakker was not the typical 1.60m course horse, but she had first-class characteristics that she consistently passed on to her offspring. Usha also had a character that didn't always make it easy, because she was extremely sensitive and sometimes a bit headstrong. Still, when jumping free your breath caught. Her jumping technique and her almost endless ability were a smooth 10 and her willingness to perform and caution on the jump were also rated 10. Usha was a tall figure standing in a rectangle, her character is characterized by courage, perseverance and tremendous jumping ability.
Aus Ushas direktem Stamm kommen auch vielversprechende Hengste, u.a. Erco van't Roosakker (v Darco) erfolgreich unter Daniel Deusser (D), George Z (v. Kannan) mit Lorenzo de Luca (ITA) und Kassander van 't Roosakker (v. Echo van' t Spieveld) mit dem belgischen Top Reiter Gregory Wathelet. Auf ihre Gene und Vererbungskraft setzen wir auch bereits in der Züchtervereinigung Mittelerde.
Unsere Pferde aus diesem Stamm:
Call me Usha Z – aktuell in der Aufzucht
Count on me Usha Z – aktuell in der Aufzucht