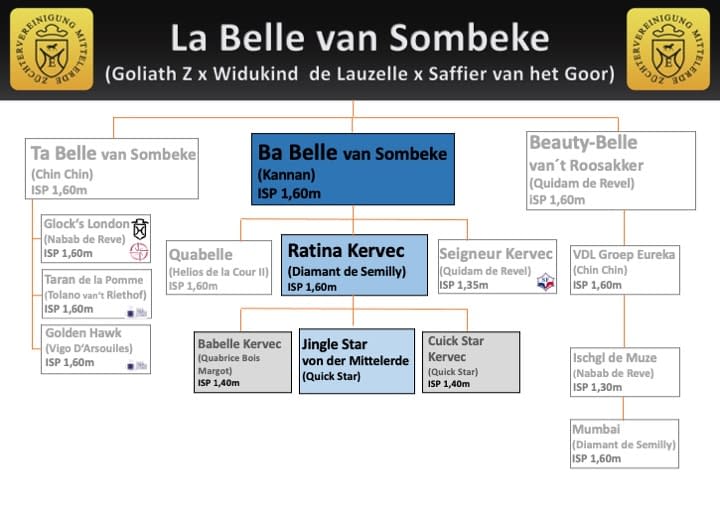 The story of the Dam line of La Belle van Sombeke reads like a fairy tale. A fairy tale that is based in particular on the genetic roots of her father's side. Her father Goliath Z by Graf Gotthard, a breeding product from the century mare Heureka, who is also the grandmother of the no less famous Ratina Z (m. Ludger Beerbaum), gave this line everything that made the descendants of La Belle van Sombeke so extraordinary Has. Almost all offspring have proven themselves in sport and are equally impressive due to their constant hereditary power well beyond the fourth generation.
From movement, strength and good reflexes to scope and rideability, this dam line has everything that makes a top sport horse. Offspring from this line are known for their gentleness in handling, but with enormous jumping potential and the will to win when it counts - an ideal mixture for the ambitious sport or leisure rider.
Über die Hälfte der Nachkommen von La Belle van Sombeke selbst sind oder waren im Sport erfolgreich, davon vier sogar auf internationalem 1,60m Niveau. Eine von ihnen Ta Belle van Sombeke, die unter Jos Lansink unzählige Große- und Nationenpreise gewann. Züchterisch hat Ta Belle mit Glock's London (Gerco Schröder, NLD), Taran de la Pomme (m. Karline de Brabander, BEL), Golden Hawk (m. Shane Breen, IRL) sowie A Pikachu de Muze (m. Billy Twomey, IRL), sogar vier gekörte Söhne gebracht, die auf Weltniveau unterwegs waren. Die gleichen züchterischen Qualitäten zeigt Tochter Beauty-Belle van't Roosakker (Nabab de Reve). Ihre Kinder und Kindeskinder landen fast alle ausnahmslos auf der ganz großen Bühne, so z.B. Urenkel Mumbai (v. Diamant de Semilly) und Opium JW van de Moerhoeve (v. Kannan) aus der Ischgl de Muze von Nabab de Reve, einer Enkelin von Beauty-Belle.
The consistency of pairing with the best stallions in the world shows how successful Belgian show jumping breeding works, which focuses on proven performance. This makes the La Belle van Sombeke dam line a guarantor for a successful sports career.
So brachte die Anpaarung mit Kannan die Tochter Ba Belle (auch Ba Belle vant't Roosakker), die ebenfalls auf 1,60m Niveau erfolgreich startete. In der weiteren Folge mit Diamant de Semilly angepaart kam Ratina Kervec, die Mutter von unserer Jingle Star von der Mittelerde. Schon während ihrer Sportkariere, die auch bis auf 1,60m Niveau ging, wurde Ratina Kervec zur Zucht eingesetzt. Die Traumanpaarung mit Quick Star zeigt bereits beachtliche Ergebnisse. Der 2012 geborene Vollbruder von Jingle Star, Cuick Star Kervec, behauptet sich bereits unter seinem Reiter Shane Breen (IRL) in altersgemäßen 1,40m Parcours. Die 2011 geborene Tochter Babelle Kervec (v. Quabrice Bois Margot) ist ebenfalls auf 1,40m Level erfolgreich und hat ihrerseits Nachkommen, die auch schon mit dem Sport begonnen haben.
Other well-known offspring from this dam line include Wabelle de Muze (w. Damien Haeltermann, BEL), Oak Grove's Heartfelt (m. Harm Lahde, DEU), Quabelle (w. Blythe Karolyi, USA), Casimir de la Pomme (w. Alexandros Fourlis, GRC), Arac du Seigneur Z (with Angelique Rüsen and Christian Ahlmann, both DEU), Taran de la Pomme (with Karline de Brabander, BEL), Walkure van Sombeke (with Wilm Vermeir, BEL), and VDL Groep Eureka (with Maikel van der Vleuten, NLD).
La Belle van Sombeke – eine Mutterlinie die man sich merken sollte.
Unsere Pferde aus diesem Stamm:
Jingle Star von der Mittelerde – aktuell in der Aufzucht