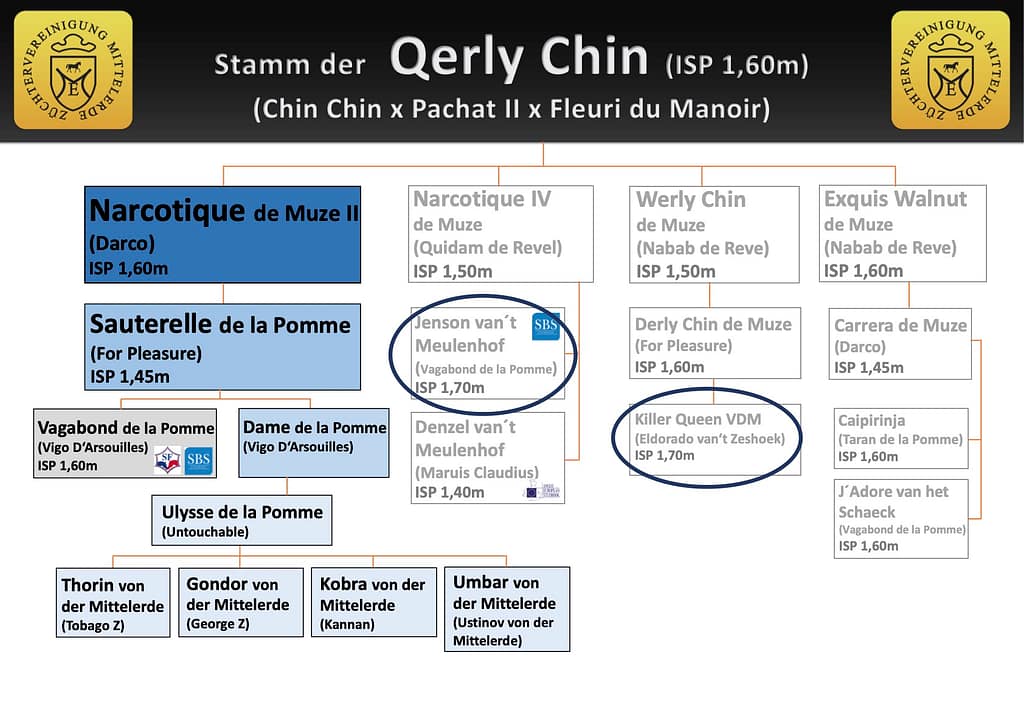 The success story of Narcotique de Muze II with her offspring, already began with granddam Kerly and dam Qerly Chin, who were both successful at the highest jumping level. And in terms of breeding, it was Qerly Chin who gave this bloodline its incomparable genetics.
Even while the young Qerly Chin (by Chin Chin x Pachat II) was slowly and carefully maturing for entry into the sport, you could already see her talent for the big stage. This was particularly evident in her willingness to perform, her seemingly endless scope as well as her enormous bounce and elasticity. Qerly Chin was a bundle of energy with character and attitude.
There was no question for the successful Belgian breeder Joris de Brabander, who recognized the outstanding quality of this performance line very early on, to build up and expand the Qerly Chin line using the embryo transfer technique combined the genes of the best stallions in the world.
Narcotique de Muze II (by Darco) was one of twelve offspring of Qerly Chin when she was only a young horse. Besides Narcotique de Muze II, there were famous Narcotique de Muze IV (by Quidam de Revel), Exquis Walnut de Muze and the outstanding Werly Chin de Muze (both by Nabab de Reve). Altogether there were 8 mares and 4 stallions in four years, all of whom with their children and grandchildren repeatedly draw attention to themselves.
How strong the hereditary power is over many generations of the Qerly Chin dam line can be shown very well using the example of Vagabond de la Pomme. His mother Sauterelle de la Pomme (by For Pleasure) jumped 1.45m with Patrice Delaveau, his grandmother Narcotique de Muze II (by Darco) with Eric Lamaze at 1.60m, his great-grandmother Qerly Chin (by Chin Chin) with Christophe Barbeau at 1.60m and his great-great-grandmother Kerly (by Pachat II) also jumped at 1.60m level with David Jobertie. And Vagabond de la Pomme himself jumped 1.60m under Penelope Leprevost and came second in the 2015 World Cup final in Las Vegas.
In the "Mittelerde" stable, we tie in with this special dam line with our mare Ulysse de la Pomme. Lizzy (her nickname) comes from Untouchable from Dame de la Pomme (by Vigo D'Arsouilles), the full sister of Vagabond de la Pomme.
Other names from this dam line are e.g. the Narcotique II sisters Merveille de Muze (Nabab de Reve), Narcotique Schutterhof (Tenor Manciais), Wallon de Muze (Nabab de Reve) and Inshallah de Muze, Daytona de Muze, Derly Chin de Muze and Killer Queen VDM (see graphic), Falaise de Muze , Diablesse de Muze, Freestyle de Muze, Denzel van't Meulenhof (see above), Jenson van't Meulenhof (see above), Farfelu de la Pomme, Gaillard de la Pomme, Kasanova de la Pomme as well as Querlybet Hero. All of them are or were internationally highly successful show jumpers - just exceptional athletes.
This is exactly what makes this extremely sport-proven Belgian dam line 34 the most successful line of all times - the dam line of Qerly Chin.
Our horses from this Dam Line
Ulysse de la Pomme (Lizzy ME) - currently in breeding - for 2022 pregnant by Chaco-Blue (ET)
Thorin von der Mittelerde- sold
Gondor von der Mittelerde - sold
Kobra von der Mittelerde - currently in rearing / sold
Umbar von der Mittelerde - currently in rearing