Ulysse de la Pomme Z (Lizzy ME)
Untouchable x Vigo d'Arsouilles x For Pleasure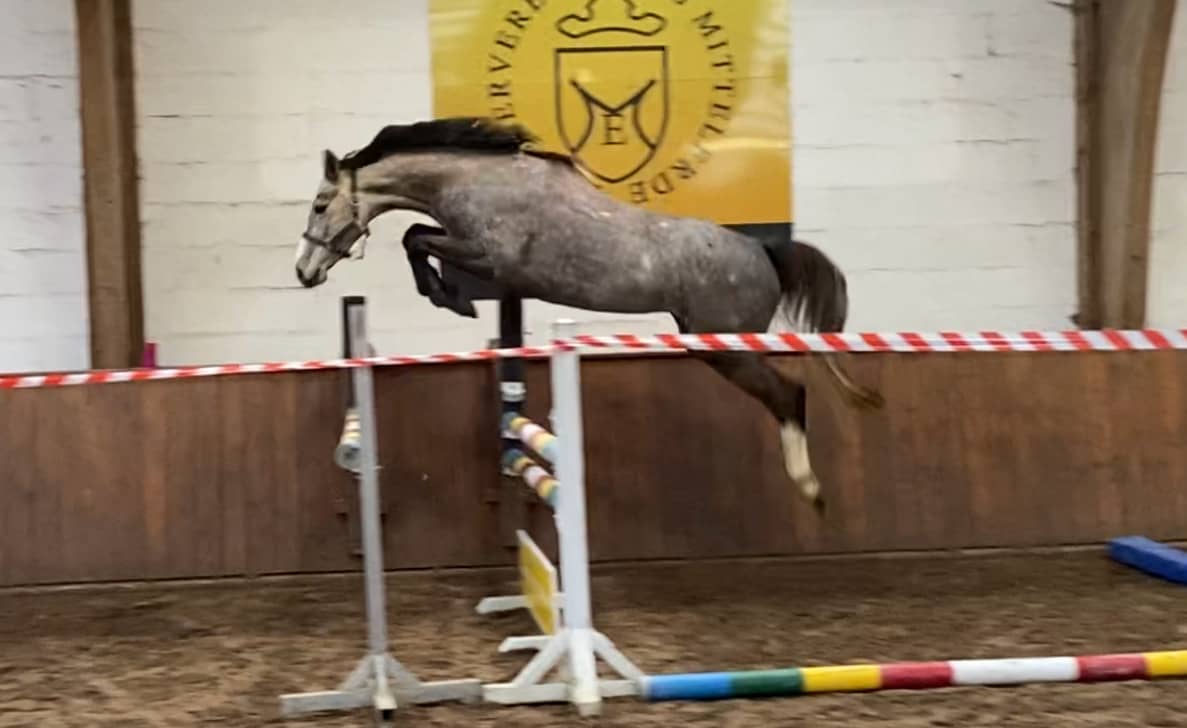 Description: a bundle of energy with tactfully balanced movements and extreme understanding of space.
Pedigree: Breeding means thinking in generations! Through her mother Dame de la Pomme we have one of the world's best (if not THE best) mare lines in the stable that this sentence absolutely applies to. All mothers were successful in 1.60m international jumping until far behind the 4th generation. With brilliant foresight, they were paired with only the best stallions. Stallions that have shown outstanding performance in sport and have also consistently passed on these good genes to their offspring. With Chin Chin, Darco, For Pleasure, Vigo d'Arsouilles, Dame de la Pomme, who is also the full sister to world-class jumping stallion Vagabond de la Pomme (Pénélope Leprevost), has a highly interesting international pedigree that is second to none. The perfect basis for the next generations.
Sire Untouchable is a modern, strong blooded type with brilliant technology, very intelligent and very careful. He inherits the top genes from the French stallion Papillon Rouge by Jalisco B via Hors la Loi II, which was internationally very successful under Rodrigo Pessoa. On the dam's side is the blood of the Dutch elite stallion Heartbreaker as well as that of Holstein sire legend and two-time Olympic athlete Carthago Z. Well-known successors of Untouchable are without any doubt Untouched, who was first trained and ridden by Nick Skelton and later by Britains Ben Maher, as well as the Holstein premium stallion Uriko.
Untouchable himself can look back on many international successes in Grand Prix and CSI 5 * tests, at the beginning of his career under Alvaro Alfonso de Miranda Neto and later under Daniel Deusser.
With Ulysse (nickname Lizzy) we have laid an important base for the sustainable future of the Middle Earth Breeders' Association.
Nachkommen von Ulysses de la Pomme (Lizzy ME):
1.) Thorin von der Mittelerde (HF v. Tobago Z /Scuderia 1918 Tobago), *13.05.2020
2.) Gondor von der Mittelerde (HF v. George Z), *02.04.2021
3.) Kobra von der Mittelerde (SF v. Kannan), *15.04.2021
4.) Umbar von der Mittelerde (SF v. Ustinov von der Mittelerde), *27.05.2021
5.) Calma von der Mittelerde (SF v. Chacco-Blue), *21.03.2022
für 2023 erwarten wir ein Fohlen von Elitehengst Cardento (Termin 05/2023)