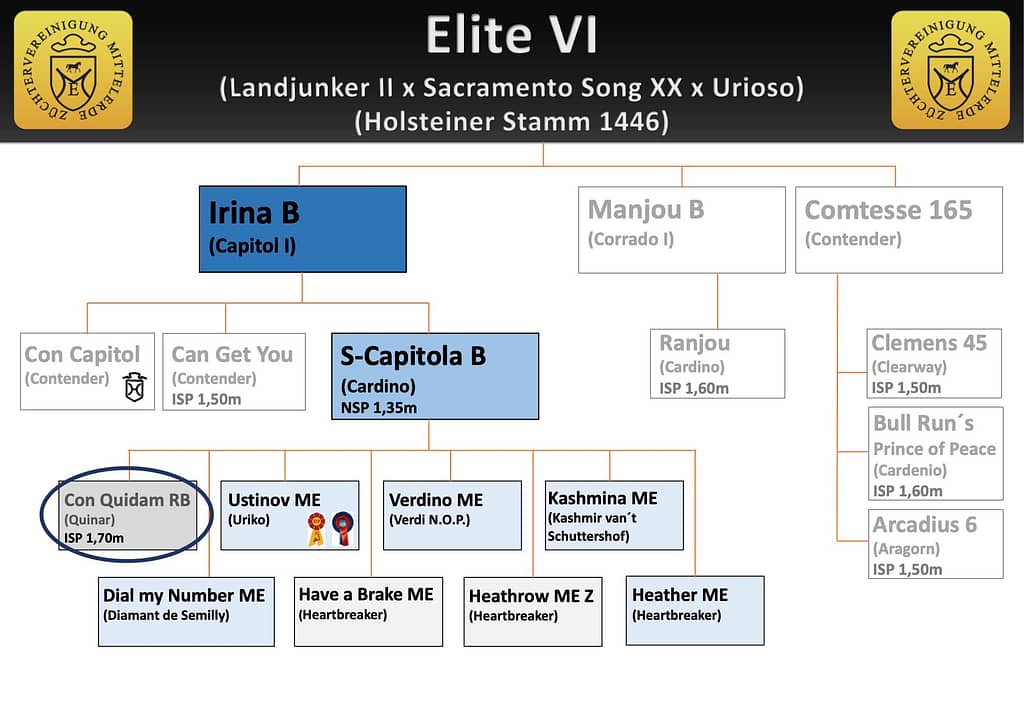 The line 1446 is a small but very special performance line from Holstein, which is again on everyone's lips due to current sporting and breeding successes.
Starting with Elite VI (by Landjunker II x Sacramento Song XX), two of her daughters, Irina B (by Capitol I) and P-Comtesse (by Contender), laid the foundations for the current success of this dam line.
While Comtess' offspring are almost exclusively active and highly successful in sport to this day, it was Irina B who, in addition to her sporty offspring, also successfully established herself in breeding. With Con Capitol, a licensed son of the legendary sire Contender, and S-Capitola v. Cardino, the performance genetics of the Stamm 1446 will be continued in many of their offspring.
Capitola already wrote her biography with her first foal Con Quidam (by Quinar). The stallion, born in 2006, currently competes in international competitions in the highest jumping class under the amazon Sanne Thijssen from Holland and regularly finishes on the podium. No wonder, because his extremely good rideability, his scope and his willingness to perform, which he got from his mother, make it easy for horse and rider to dominate the competition.
After her sporting career, which brought Capitola up to M ** (1.35m) level, she went back to breeding. Foal number two after Con Quidam was already a Mittelerde bred offspring. Ustinov von der Mittelerde was licensed at the age of three. He passed his stallion performance test with outstanding ratings for rideability and willingness to perform. Furthermore, there are six other offspring from Capitola. All of them descend from stallions who have revolutionized the international sport horse breeding - Verdi N.O.P., Kashmir van't Schuttershof, Diamant de Semilly and Heartbreaker.
S-Capitola is currently in 13th place in the world rankings for the most successful broodmares (measured in terms of prize money from direct offspring) - as of October 2021.
Our horses from this Dam Line
Ustinov von der Mittelerde - currently in sport
Verdino von der Mittelerde - sold
Kashmina von der Mittelerde - currently in sport
Dial my Number von der Mittelerde- currently in breeding - for 2022 pregnant by Hickstead Blue
Have a Break ME - sold
Heathrow ME - sold
Heather von der Mittelerde - currently in rearing