Cornet Obolensky x Kannan x Chin Chin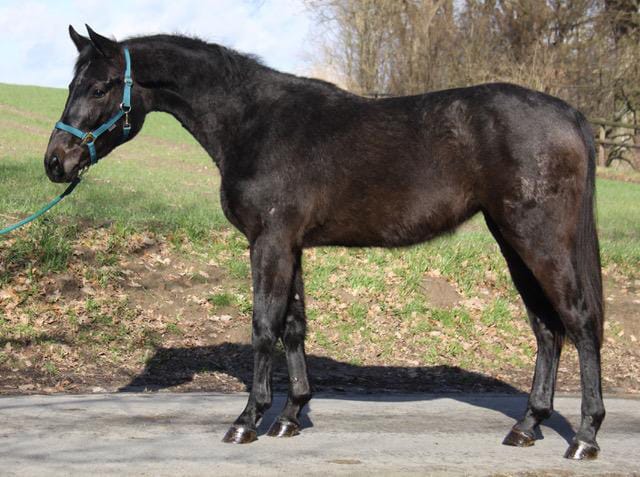 Description: very present foal, extremely correct with elastic movements
Pedigree: 1st Dam, Goya is still at the very beginning of her breeding career. After their sporty career up to the middle class, their descendants are getting remarkable attention today with top prices at the renowned European auctions.
With Kannan, Goya not only has a famous father, but also a legendary mother. Chin Chin's Usha van 't Roosakker has been highly successful even in sports. Later in breeding she brought a large number of highly successful offspring, which made Usha one of the best broodmares in the world. With Babbe van 't Roosakker and the whiz kid George Z (under Lorenzo de Luca), Goya even has two very popular full siblings. Babbe van 't Roosakker was victorious at the 1.50m level and is also the dam of the famous stallion Erco van' t Roosakker (successful under Daniel Deusser at 1.60m level). Full brother George Z has now also arrived in the 1.60m class.
Here are other successful descendants of Usha van 't Roosakker and thus closest relatives to Goya: Cella by Cento (1.60 m Ben Maher), Atoucha van' t Roosakker by Darco, Electra van 't Roosakker by Carthago (1.60 m Jos Lansink) , Falco van 't Roosakker from Berlin (1.60m Eugenio Grimaldi), Emporio van' t Roosakker from Naba de Reve (1.55m), Equador van 't Roosakker from Naba de Reve (1.60m Frédéric David).
Sire Cornet Oblensky is undoubtedly one of the top sires worldwide, as confirmed by the consistent top ten rankings in the WBFSH sire ranking in recent years. With sons and daughters like Cornet d'amour, Comme il faut, Cornado I, Clooney and Coree, Cornet Obolensky proves his inheritance in almost every top international class. Cornet Obolensky himself impressed with Marco Kutscher on both the German and international stage and was considered the most profitable German show jumper of his time. The duo was u. a. Team European Champion of Show Jumping in Madrid and won several Grand Prix and Nations Cup.