The mare makes the difference
As already highlighted in the breeder's presentation, the dam line of the broodmare plays a particularly important role. It is said that 70% of a horse's disposition comes from the dam line, only about 30% comes from the father. The fathers genes are important for the grafting of the direct offspring and should further improve the overall quality of the dam line.
Good horses therefore arise from the basic quality of the mother mare, the sporty talents and her inheritance. Only the consistent pairing with the right, proven stallions, i.e. the matching combination of genes over many generations, leads to the gradual improvement of the sport horse quality and thus to the sustainable success of the offspring.
This fact is an occasion for us to present our mother lines here and to draw attention to the peculiarities of their inheritance qualities, as well as to give an impression of the amount of time involved in successful and sustainable breeding and how valuable an entry into an already proven mother line is can be.

Please take the time and immerse yourself in the world of descent from
La Rouge (official breeding name Lady L)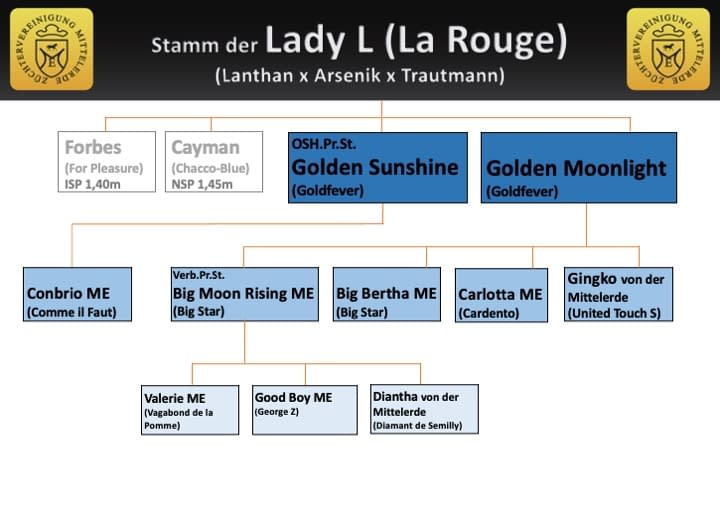 La Rouge (official breeding name Lady L, *1991) was in sports herself. She has achieved successes up to MA (M **) in both dressage and jumping. Her breeding career began at the age of 15. She got four foals, two stallions (today geldings, both of whom were victorious in jumping up to 1.40m) and two full sisters of Goldfever I, one of which was a mare (Golden Sunshine) Oldenburg main premium mare, what the other mare (Golden Moonlight) was refused due to an irreparable injury caused by a pasture accident.
Was diese Linie so besonders macht und auszeichnet sind zum Einen La Rouges Gene der Vaterseite von Lanthan, Lombard, Lugano II, Der Löwe xx, sowie der Mutterseite von Arsenik, der über Absatz die robusten Gene des Trakeners Abglanz in sich vereint. Diese Blutkombination zeichnet Verantwortung dafür, dass es in dieser robusten Linie bis heute in die vierte Generation keine Krankheiten oder erblich bedingte Schwachstellen gibt oder gegeben hat, was für sich schon einen besonderen Wert darstellt. La Rouge selbst ist heute 30 Jahre alt und kerngesund.
In der weiteren Zuchtfolge ergänzte Goldfever wertvolle Gene der Hannoveraner Vererberlegende Goldfisch II und der Jahrhundert Stute Heureka, die in der dritten Generation mit zweifachem Olympiasieger Big Star um die Leistungsgene des Quick Star, Nimmerdor und Ramiro ergänzt wurden. Heraus kamen zwei Vollschwestern, Big Moon Rising ME (*2016) und Big Bertha ME (*2018), von denen die Ältere bereits über Embryo Transfer (ET) dreijährig zwei Fohlen bekam – ein Stutfohlen von Vagabond de la Pomme (aus der weltbekannten Narcotique II Linie, s.unten) sowie ein Hengstfohlen von George Z (aus der ebenso bekannten Usha van de Roosakker Linie, s. unten). Beide Fohlen wurden bei ihrer Registrierung auf Anhieb mit dem Elitefohlen Prädikat ausgezeichnet. Valerie ME wurde darüber hinaus Reservesieger beim Oldenburger Fohlenchampionat 2019 in Homberg. Angekommen in der vierten Generation, wird diese Linie sicherlich im großen Sport wiederzusehen sein.
Narcotique de Muze II / Qerly Chin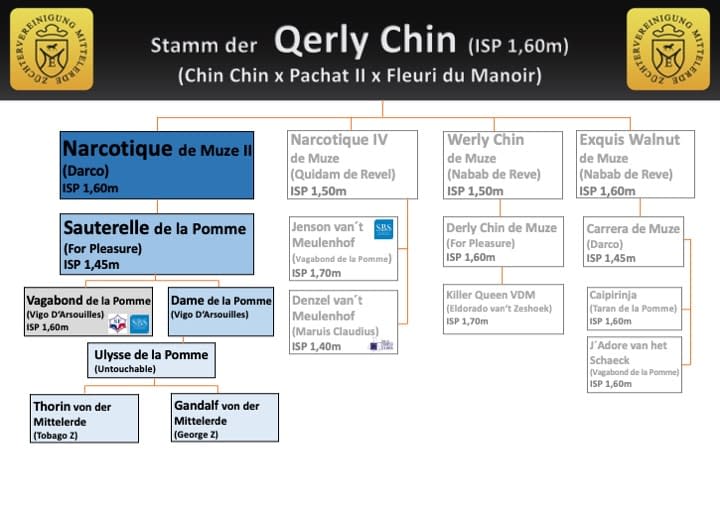 The success story of Narcotique de Muze II with her offspring, already begins with granddam Kerly and dam Qerly Chin, who were both successful at the highest jumping level. And in terms of breeding, it was Qerly Chin who gave this bloodline its incomparable genetics.
Even while the young Qerly Chin (by Chin Chin x Pachat II) was slowly and carefully maturing for entry into the sport, you could already see her talent for the big stage. This was particularly evident in her willingness to perform, her seemingly endless scope as well as her enormous bounce and elasticity. Qerly Chin was a bundle of energy with character and attitude.
There was no question for the successful Belgian breeder Joris de Brabander, who recognized the outstanding quality of this performance line very early on, to build up and expand the Qerly Chin line using the embryo transfer technique combined the genes of the best stallions in the world.
Narcotique de Muze II (von Darco) war eine von zwölf Nachkommen dieser Jungpferdezeit von Qerly Chin. Neben Narcotique de Muze II waren es auch die berühmte Narcotique de Muze IV (von Quidam de Revel), Exquis Walnut de Muze und die überragende Werly Chin de Muze (beide v. Nabab de Reve). Zusammen waren es 8 Stuten und 4 Hengste in vier Jahren, die allesamt mit ihren Kindern und Kindeskindern immer wieder auf sich aufmerksam machen.
How strong the hereditary power of the Qerly Chin dam line is over many generations can be shown very well using the example of Vagabond de la Pomme. His mother Sauterelle de la Pomme (by For Pleasure) jumped 1.45m with Patrice Delaveau, his grandmother Narcotique de Muze II (by Darco) with Eric Lamaze at 1.60m, his great-grandmother Qerly Chin (by Chin Chin) with Christophe Barbeau at 1.60m and his great-great-grandmother Kerly (by Pachat II) also jumped at 1.60m level with David Jobertie. And Vagabond de la Pomme himself jumped 1.60m under Penelope Leprevost and came second in the 2015 World Cup final in Las Vegas.
In the "Mittelerde" stable, we tie in with this special dam line with our mare Ulysse de la Pomme. Lizzy (her nickname) comes from Untouchable from Dame de la Pomme (from Vigo D'Arsouilles), the full sister of Vagabond de la Pomme.
Weitere Namen aus diesem Stamm sind z.Bsp. die Narcotique II Schwestern Merveille de Muze (Nabab de Reve), Narcotique Schutterhof (Tenor Manciais), Wallon de Muze (Nabab de Reve) sowie Inshallah de Muze, Daytona de Muze, Derly Chin de Muze (s. Grafik), Falaise de Muze, Diablesse de Muze, Freestyle de Muze, Denzel van't Meulenhof (s.o.), Jenson van't Meulenhof (s.o.), Farfelu de la Pomme, Gaillard de la Pomme, Kasanova de la Pomme ebenso wie Querlybet Hero. Sie alle sind oder waren international hoch erfolgreiche Springpferde – Ausnahme Sportler.
This is exactly what makes this extremely sport-proven Belgian dam line 34 the most successful line of all times - the dam line of Qerly Chin.
Fragance de Chalus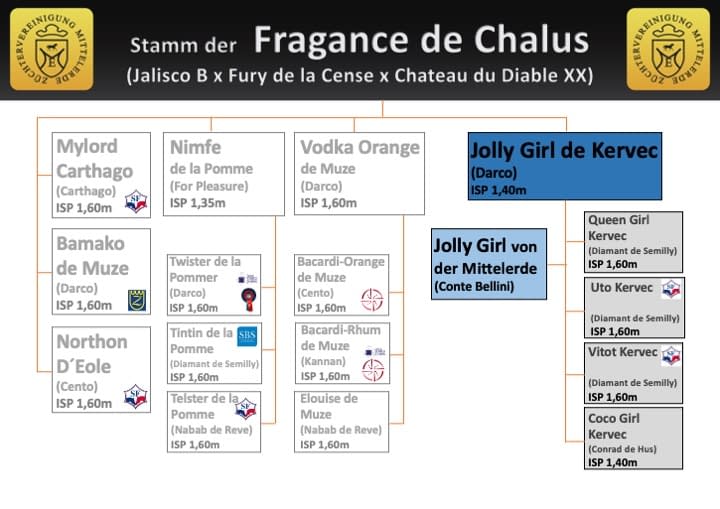 Fragance de Chalus (by Jalisco B x Fury de la Cense x Chateau du Diable XX, bred by Solange Planson, France) has revolutionized the breeding world and was one of the pillars that contributed to the success of the globally growing show jumping sport. Unfortunately, she passed away in 2019 at the age of 26. With Joris de Brabander, probably the most famous breeder in Belgium, Fragance de Chalus made history.
In terms of sport, Fragance was successful up to the advanced level up to 1.40 m. She was characterized by a high level of motivation and determination, courage and clarity. In addition, Fragance convinced with excellent rideability and excellent manner on the jump and she passed this on to her offspring. All of them have very good character traits, they are ideally suited for both amateurs and professional athletes. Her bite and her winning mentality, the will to get to the other side and remain flexible and agile, especially on technically demanding courses, all this characterizes this mother line. Not to forget the outstanding hindquarters technique, the most famous landmark in this line.
Through new breeding techniques, such as. embryo transfer, Fragance de Chalus brought to a considerable posterity. Of over 40 of their direct descendants, well over half made it into the major international show jumping class, which brought Frangance to the podium unchallenged in the ranking of the world's best broodmares for show jumping. In addition, her inheritance power is so strong that four of her daughters with the same genetic penetration made it into the top 40 mares in this ranking, including Jolly Girl Kervec by Darco, the mother of our Jolly Girl von der Mittelerde.
Insgesamt sind es mehr als 50 Nachkommen (Söhne, Töchter und Enkel) aus der Fragance Linie, die sich bis in den internationalen Erfolg entwickelt haben. Darunter u.a. die Hengstsöhne Mylord Carthago, Bamako de Muze, Norton d'Eole und Arc en Ciel de Muze sowie die Töchter Nimfe de la Pomme, Vodka Orange de Muze, Jolly Mome, Anais Anais de Muze, Nais de la Pomme und in den weiteren Generationen u.a Telstar de la Pomme, Twister de la Pomme, Bacardi-Orange de Muze, … und viele viele andere.
As a pioneer in embryo transfer, the Selle Français mare Fragance from the international Nifrane line leaves an indelible mark on today's European show jumping breeding.
Usha van't Roosakker
As mentioned at the beginning, a top mare line with consistently proven top quality and her inheritance security is of particular importance.
With the Usha van't Roosakker- Line we were able to bring exactly such a mother line into the stable. Many international sport horses and licensed stallions have emerged from him. And even Usha's breeder, Marc Kluskens from Belgium, started his breeding very wisely with the mare Rosanne van de Withoeve (Major de la Cour x Fleuri du Manoir a.d. Hawaii van den Padenborre), from which he finally bred Usha.
Usha van't Roosakker (by Chin Chin) went up to 1.50m under Marlon Modolo Zanotelli. In the subsequent breeding career she had nine daughters, the first five of which have already produced offspring themselves who have made it to the great international level (1.50m and higher). We can also expect identical inheritance security from the younger four daughters, as well as from Goya (Kannan x Chin Chin x Major de la Cour), from whom we raised our filly Call me Usha by Cornet Obolensky. sowie 2021 ebenfalls ein Stutfohlen, Count on me Usha von Cornet du Lys, gezogen haben.
Wie bereits angedeutet, weist die Stutenlinie von Usha van't Roosakker auf ganz außergewöhnliche Eigenschaften hin. Wie in einem Puzzle wurde sie über Generationen mit den richtigen Hengsten bis zu dieser vollkommenen Spitzenqualität entwickelt. Sie kann mittlerweile auf über 50 Nachkommen blicken, die auf internationalem Parkett erfolgreich sind (einen kleinen Auszug sieht man auf dem Schaubild oben).
Usha van't Roosakker was not the typical 1.60m course horse, but she had first-class characteristics that she consistently passed on to her offspring. Usha also had a character that didn't always make it easy, because she was extremely sensitive and sometimes a bit headstrong. Still, when jumping free your breath caught. Her jumping technique and her almost endless ability were a smooth 10 and her willingness to perform and caution on the jump were also rated 10. Usha was a tall figure standing in a rectangle, her character is characterized by courage, perseverance and tremendous jumping ability.
Aus Ushas direktem Stamm kommen auch vielversprechende Hengste, u.a. Erco van't Roosakker (v Darco) erfolgreich unter Daniel Deusser (D), George Z (v. Kannan) mit Lorenzo de Luca (ITA) und Kassander van 't Roosakker (v. Echo van' t Spieveld) mit dem belgischen Top Reiter Gregory Wathelet. Auf ihre Gene und Vererbungskraft setzen wir auch bereits in der Züchtervereinigung Mittelerde.
La Belle van Sombeke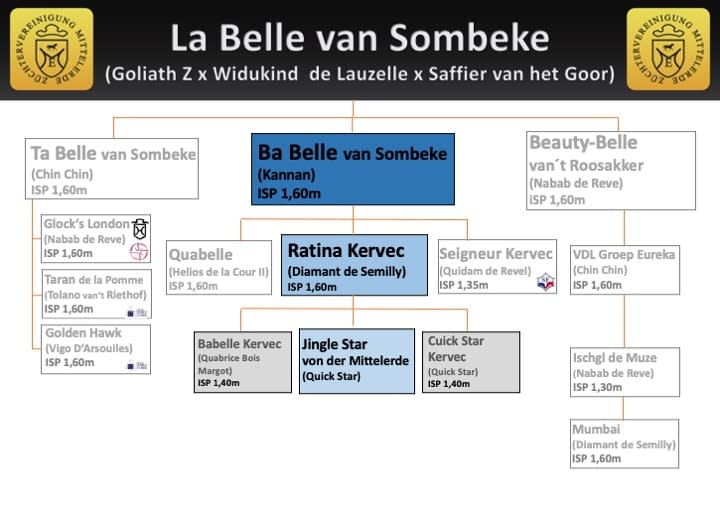 The story of the Dam line of La Belle van Sombeke reads like a fairy tale. A fairy tale that is based in particular on the genetic roots of her father's side. Her father Goliath Z by Graf Gotthard, a breeding product from the century mare Heureka, who is also the grandmother of the no less famous Ratina Z (m. Ludger Beerbaum), gave this line everything that made the descendants of La Belle van Sombeke so extraordinary Has. Almost all offspring have proven themselves in sport and are equally impressive due to their constant hereditary power well beyond the fourth generation.
From movement, strength and good reflexes to scope and rideability, this dam line has everything that makes a top sport horse. Offspring from this line are known for their gentleness in handling, but with enormous jumping potential and the will to win when it counts - an ideal mixture for the ambitious sport or leisure rider.
Über die Hälfte der Nachkommen von La Belle van Sombeke selbst sind oder waren im Sport erfolgreich, davon vier sogar auf internationalem 1,60m Niveau. Eine von ihnen Ta Belle van Sombeke, die unter Jos Lansink unzählige Große- und Nationenpreise gewann. Züchterisch hat Ta Belle mit Glock's London (Gerco Schröder, NLD), Taran de la Pomme (m. Karline de Brabander, BEL), Golden Hawk (m. Shane Breen, IRL) sowie A Pikachu de Muze (m. Billy Twomey, IRL), sogar vier gekörte Söhne gebracht, die auf Weltniveau unterwegs waren. Die gleichen züchterischen Qualitäten zeigt Tochter Beauty-Belle van't Roosakker (Nabab de Reve). Ihre Kinder und Kindeskinder landen fast alle ausnahmslos auf der ganz großen Bühne, so z.B. Urenkel Mumbai (v. Diamant de Semilly) und Opium JW van de Moerhoeve (v. Kannan) aus der Ischgl de Muze von Nabab de Reve, einer Enkelin von Beauty-Belle.
The consistency of pairing with the best stallions in the world shows how successful Belgian show jumping breeding works, which focuses on proven performance. This makes the La Belle van Sombeke dam line a guarantor for a successful sports career.
So brachte die Anpaarung mit Kannan die Tochter Ba Belle (auch Ba Belle vant't Roosakker), die ebenfalls auf 1,60m Niveau erfolgreich startete. In der weiteren Folge mit Diamant de Semilly angepaart kam Ratina Kervec, die Mutter von unserer Jingle Star von der Mittelerde. Schon während ihrer Sportkariere, die auch bis auf 1,60m Niveau ging, wurde Ratina Kervec zur Zucht eingesetzt. Die Traumanpaarung mit Quick Star zeigt bereits beachtliche Ergebnisse. Der 2012 geborene Vollbruder von Jingle Star, Cuick Star Kervec, behauptet sich bereits unter seinem Reiter Shane Breen (IRL) in altersgemäßen 1,40m Parcours. Die 2011 geborene Tochter Babelle Kervec (v. Quabrice Bois Margot) ist ebenfalls auf 1,40m Level erfolgreich und hat ihrerseits Nachkommen, die auch schon mit dem Sport begonnen haben.
Other well-known offspring from this dam line include Wabelle de Muze (w. Damien Haeltermann, BEL), Oak Grove's Heartfelt (m. Harm Lahde, DEU), Quabelle (w. Blythe Karolyi, USA), Casimir de la Pomme (w. Alexandros Fourlis, GRC), Arac du Seigneur Z (with Angelique Rüsen and Christian Ahlmann, both DEU), Taran de la Pomme (with Karline de Brabander, BEL), Walkure van Sombeke (with Wilm Vermeir, BEL), and VDL Groep Eureka (with Maikel van der Vleuten, NLD).
La Belle van Sombeke – eine Mutterlinie die man sich merken sollte.
Elite VI – (Holsteiner Stamm 1446)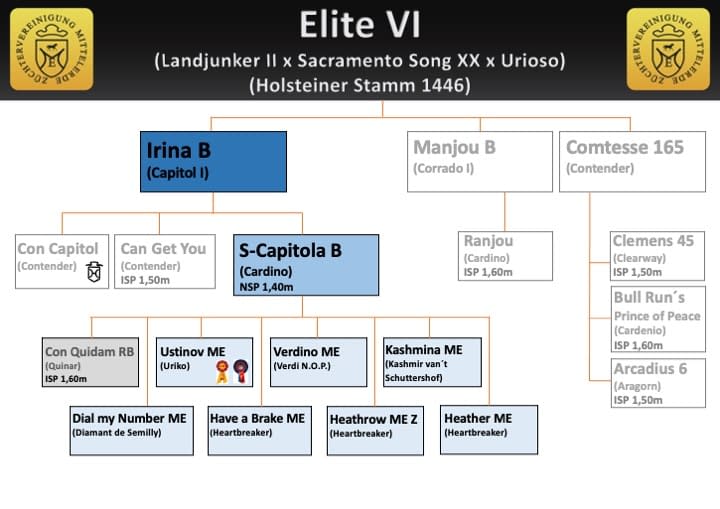 The line 1446 is a small but very special performance line from Holstein, which is again on everyone's lips due to current sporting and breeding successes.
Starting with Elite VI (by Landjunker II x Sacramento Song XX), legten zwei ihrer Töchter, Irina B (v. Capitol I) und Comtesse 165 (v. Contender), die Grundsteine für die heutigen Erfolge dieses Stammes.
Während Comtesses Nachkommen bis heute fast ausschließlich im Sport aktiv sind, war es Irina, die sich neben ihren sportlichen Nachkommen auch in der Zucht erfolgreich durchgesetzt hat. Mit Con Capitol, einem gekörten Sohn der Vererberlegende Contender, und S-Capitola v. Cardino setzt sich die Leistungsgenetik des Stammes 1446 in vielen ihrer Nachkommen fort.
Capitola schrieb direkt mit ihrem ersten Fohlen (Con Quidam v, Quinar) Geschichte. Der 2006 geborene Hengst geht heute unter der Amazone Sanne Thijssen aus Holland in internationalen Prüfungen der höchsten Springklasse und endet regelmäßig auf dem Siegertreppchen. Kein Wunder, denn seine extrem gute Rittigkeit, sein Vermögen sowie seine Leistungsbereitschaft, die ihm bereits von seiner Mutter mitgegeben wurden, machen es Pferd und Reiterin leicht, die Konkurrenz zu dominieren.
Nach ihrem sportlichen Werdegang, der Capitola bis zum M** (1,35m) Niveau brachte, ging sie wieder in die Zucht. Fohlen Nummer zwei nach Con Quidam war bereits ein Mittelerde gezogener Nachkomme. Ustinov von der Mittelerde wurde im Alter von drei Jahren gekört. Die anschließende Hengstleistungsprüfung absolvierte er mit überragenden Bewertungen für Rittigkeit und Leistungsbereitschaft. Darüber hinaus kommen aus Capitola sechs weitere Nachkommen. Alle stammen von Hengsten ab, die die internationale Sportpferdezucht revolutioniert haben – Verdi N.O.P., Kashmir van't Schuttershof, Diamant de Semilly und Heartbreaker.
Anouska van de Fruitkorf
The dam line of Anouska van de Fruitkorf shows once again how important the foresight is in breeding (they say "thinking in generations") and how long it still takes until such a breeding quality product develops from it that the class possesses, to rise to an international level.
It was the Hanoverian line of the Königsheldin (Schridde 957), which was bred and grafted with thoroughbred stallions in two generations in a row in the early to mid-eighties. First it was the half-blood mare Sharon by Shogun XX out of the Hanoverian warmblood mare Glanzart, which was later sold to Belgium. There, paired with thoroughbred Dark Proposal XX, she achieved her sporting breakthrough for this dam line. The heavily blooded Miss Magic (out of Sharon) was inseminated with world class stallion Darco and came out, Twice as Nice van de Fruitkorf.
And this is exactly where you can see in retrospect the ingenious foresight of the van de Fruitkorf breeding stable. With the genetic dream connection through Kannan on Darco and with the previous generations raised in bloom, Anouska van de Fruitkorf was born from Twice as Nice van de Fruitkorf in 2000.
It was Anouska who made her way up to the highest jumping class, first in Europe and later in Brazil. Anouska is a fighter with a lot of energy, willingness to perform, ingenious hindquarters technique on the jump and above average ability and thus the genetic key figure for this special dam line.
Our Mittelerde stable carries on the genes of this important dam line with Anouska's daughter Kayley DV Kayley was successful up to 1.35m under Kai Schaffner before she also attracted attention in breeding with Early Bird ME (by Emerald), Trinidad ME and Tolkienvon der Mttelerde (both by Toulon).
These three offspring alone will be heard a lot in the years to come.
Valerie – (Holländische Fokfamilie 320)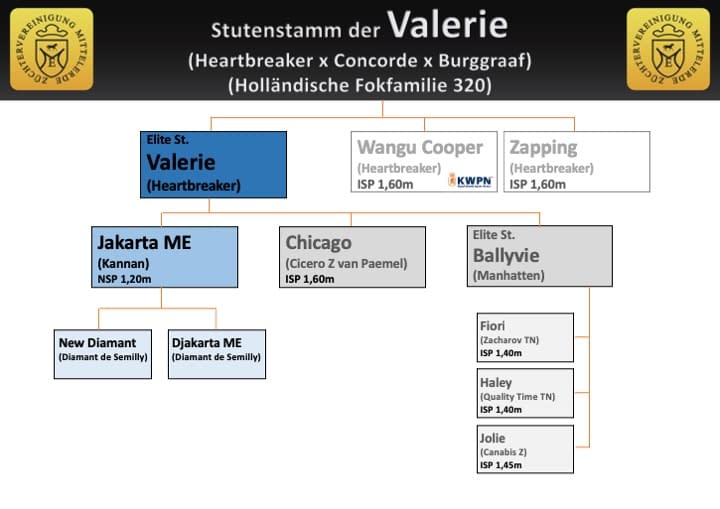 Valerie goes back to her third mother, the Carettie by Tolad x Millers Gray XX, a renowned line with a particularly high quality thoroughbred influence. The pairings that followed her with the top stallions of the time such as Cavalier, Burggraaf, Voltaire and Concorde resulted in all sporty, talented offspring who were just as successfully passed on.
Elite mare Kristie von Burggraaf directly brought 3 full siblings of the elite stallion Heartbreaker through Priscilla von Concorde. Two of them, Wangu Cooper (licensed) and Zapping, have successfully demonstrated their top sporting class up to a level of 1.60m. The third, Valerie, was used for breeding due to her outstanding KWPN mare performance test as well as her interior and her movement qualities and there she represented this successful dam line in the best possible way and expanded it with confidence.
Mit Ballyvie hat Valerie eine Tochter, die ihrerseits mehrere Nachkommen im Springsport vorweisen kann. Chicago, Valeries erster Sohn von Cicero Z van Paemel, ist heute erfolgreich in 1,60m Prüfungen in Kanada unterwegs. Tochter Jakarta ME von Kannan führt diese erfolgreiche Genetik weiter. Selbst heute im Sport, hat sie aus dem Jahr 2018 bereits zwei Nachkommen von Diamant de Semilly, die beide vielversprechende Talente zeigen. Djakarta ME, die erste der beiden Nachkommen, wird im Stall Mittelerde ab 2022 ihre sportliche Laufbahn starten.
The Fok family 320 around Valerie - soon we will hear and see a lot more about them.
Fatima ME – (Holsteiner Stamm 741)